Contact Us

TEL:+86-411-39042497
400-0707-518
FAX:+86-411-39042693
Order and inquiry:
sales@alphabiopharm.com
Custom synthesis:
info@alphabiopharm.com
Peptide CDMO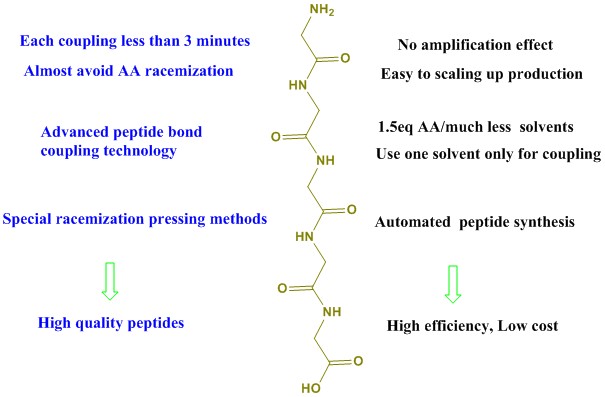 Alphabiopharma has made great breakthroughs in peptide synthesis, and has fundamentally solved the bottleneck problem of peptide manufacturing in almost every step. Our team has independently developed the world's most advanced continuous liquid-phase peptide synthesis and continuous flow solid-phase synthesis process, and successfully developed the world's first pilot and production type continuous flow solid-phase peptide synthesizer which can realize one-step coupling of peptides in 10 minutes, and a peptide with 4000 Da can be prepared in 24 hours, and the purity of crude peptide is much higher than traditional process . Due to the substantial increase of peptide production, we continue to develop successful peptide purification process, which subverts the existing purification ideas, and greatly improves the peptide purification batch production and solvent consumption.
Our Peptide CDMO services include peptide APIs, synthetic chemistry, medicinal chemistry , library design synthesis, and process chemistry. Alphabiopharma has innovated and mastered advanced technologies such as special amino acids, special protective amino acids, peptide fragments, new functional materials for peptide synthesis, and peptide coupling. This leads to a significant reduction in the cost of peptide synthesis compared to other peptide synthesis companies. We have not only successfully solved or reduced the technical difficulties of peptide β folding, coupling racemization, poor solubility, aspartimide, etc., but also made use of our own invention process, and are good at the preparation of long peptide and difficult peptide.
Alphabiopharma has excellent GMP production conditions, all of which adopt innovative automation equipment. The traditional 1000L peptide reactor which produces about 5kg peptide in one batch is replaced by about 80 liter reactor in our company. The existing equipment and process can achieve a batch of 25kg peptide , with an annual output of 400kg.
In summary, the peptide synthesis technology of our team has achieved high efficiency, safety, and environmental protection.